Peanut Nah Jim Prawn Salad and Peanut Brittle
Kay-Lene Tan & Adam D'Sylva
Peanut-Sesame Brittle
30g Water
500g Sucrose
60g White vinegar
60g White sesame seeds
560g Peanuts
Peanut Nam Jim
200g cooked prawns
2 long green chillies, roughly chopped
2 garlic cloves, quartered
2 green onions, roughly chopped
2 tbsp lime juice
2 tbsp peanuts
1 tbsp Squid fish sauce
1 tbsp grated palm sugar
1/4 cup chopped fresh coriander leaves
1 tbsp sesame seeds
Peanut-Sesame Brittle
Lightly toast white sesame seeds, and peanuts. Mix together, and put everything flat onto a Silpat.
Bring water, sucrose, and white vinegar to 150°c. Pour over white sesame seeds, and peanuts.
Leave to cool completely.
Smash into pieces with mortar, and pestle.
Peanut Nam Jim
Place all ingredients in a food processor or blender. Process or blend until almost smooth.
Toss with prawns and serve with extra peanuts, coriander & sesame seeds
Our friends at Wine Selectors suggest pairing this dish with a Pinot Gris.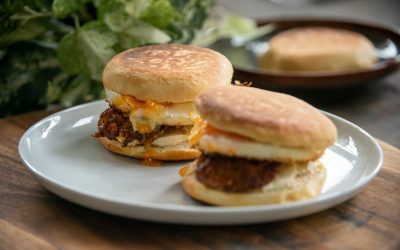 Ingredients: 300ml milk, plus extra 7g sachet of dried yeast 25g white caster sugar 50g shortening or lard 425g plain flour, plus extra 20g polenta, optional Unsalted butter Method: Gently warm the milk in a pan until lukewarm or body temperature, 37ºC. Add the yeast...