Pecan Golden Syrup Tart
Ben O'Donoghue
31/4 cups (225g) fresh breadcrumbs
100g unsalted butter
11/4 cups (440g) golden syrup
Grated zest of 1 orange, plus 3 tbsp juice
Pinch of freshly grated nutmeg
1 cup (150g) pecan nuts, halved
Icing sugar and vanilla ice cream, to serve
Sweet pastry
12/3 cups (250g) plain flour
100g chilled unsalted butter, chopped
2 tbsp icing sugar, sifted
2 egg yolks
For pastry, pulse flour, butter and a pinch of salt in a processor, then whiz until mixture resembles fine breadcrumbs.
Add sugar and yolks, then whiz until mixture forms a ball (add 1-2 tbsp cold water if needed).
Knead on a lightly floured surface for 1-2 minutes until smooth, then enclose in plastic wrap and chill for 30 minutes.
grease a 24cm loose-bottomed tart pan.
Grate chilled pastry over the pan and use clean hands to evenly press into base and sides (pastry with a high butter content can be hard to work with, and this is an easy method that doesn't need a rolling pin) chill for 15 minutes.
Preheat the oven to 200°c. Line pastry with baking paper and fill with pastry weights or uncooked rice. Bake for 10-12 minutes.
Remove weights and paper, then bake for a further 5 minutes or until the tart shell is light golden brown and the base is cooked. Set aside.
Meanwhile, stir breadcrumbs, butter, syrup, zest, juice and nutmeg in a pan over low heat until butter is just melted and mixture is combined. (It'll be slightly
loose at first, but the bread will start to thicken the mixture) tip mixture into the tart shell and arrange nuts, cut-side down, in a concentric pattern on top.
Bake for 25- 30 minutes until the filling is firm to touch in the centre. Cool for 15 minutes in the pan.
Carefully remove the tart from the pan, then dust with icing sugar and serve warm or cold with ice cream.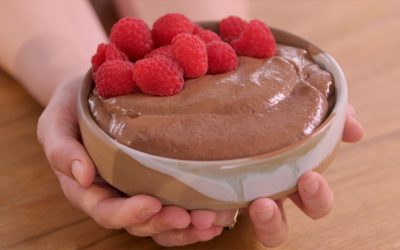 Ingredients: Plant-based milk Chia seeds Cacao powder Maple syrup Vanilla extract or paste Method: Combine all of the ingredients in a high-speed blender and blend until smooth. If you prefer to eat the seeds whole, you can skip the blender and combine the ingredients...