Penne Cacio Pepe
Tobie Puttock
Serves: 4
320g of dried penne pasta
250g freshly grated pecorino or parmesan cheese or a combo of the two.
1 tablespoon of freshly grated black pepper plus a little extra for finishing.
Best quality extra virgin olive oil.
Plunge the penne into the boiling water.
While the pasta is cooking add the grated cheese and black pepper into a large mixing bowl with a tablespoon or so of the hot pasta water, use a spoon to mix the cheeses with the water while smearing the now melting cheese around the sides of the bowl.
Once the pasta is cooked, drain out the water, reserving a half cup, add the hot pasta to the bowl with the cheese along with a couple of tablespoons of extra virgin oil. Immediately turn the hot pasta in the cheese using a spoon so the hot pasta gets a coating of the silky melted cheese, if the mixture
If it seems too thick add a little of the reserved pasta water to the mixture.
Serve with a little extra grated pepper.
Our friends at Wine Selectors suggest pairing this dish with a Montepulciano.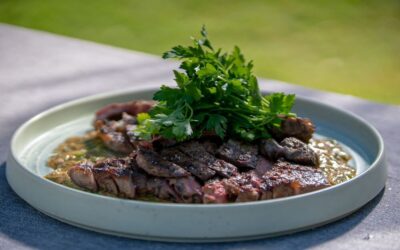 Ingredients: Serves: 2-4 2 x 250g T-bone or Rump steak Sea salt 2 Tbsp Olive oil 2 Tbsp Butter 1 brown onion, diced 2-3 cloves garlic, finely chopped 1 tsp dried chilli flakes 2 tsp dried mixed herbs 40 'twists' cracked black pepper 2 chicken stock cubes, crumbled 2-3...