Persimmon Almond and Bundt Cake
Warren Mendes
Serves: 10
400-500g weight of ripe persimmon
1/2 cup honey
1 ¼ cup caster sugar
250g unsalted butter, melted and cooled
4 XL eggs, at room temp
1 tsp apple cider vinegar
1 tbsp extra virgin olive oil
2 tbsp vanilla bean extract
300g (2 cups) self raising flour
100g almond meal
Yoghurt Drizzle:
1 ¼ cup icing sugar, sifted
¼ cup thick Greek style yoghurt
Butter a 23cm bundt pan and set aside. Preheat the oven to 170 conventional.
Place the drained apricot, honey, sugar, in a large bowl and use a stick blender to break down the fruit. Add the butter, eggs, vinegar, oil, vanilla and a pinch of salt and process to combine until smooth. Fold through the flour and almond meal using a large spoon or spatula then pour into a well greased 23cm bundt pan.
Bake for 55-60 minutes or until a skewer comes out clean.
Allow to cool in the pan for 10 minutes then invert onto a cooling rack.
For the icing, combine the yoghurt and icing sugar. Once the cake has cooled, drizzle over the icing and serve.
Our friends at Wine Selectors suggest pairing this dish with a Late harvest Riesling.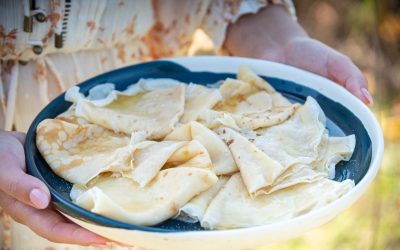 Ingredients: 2 eggs 200g Flour 2 tbsp Caster Sugar 200ml Milk Butter Lemon Juice Honey Method: In a large mixing bowl add your flour eggs and sugar and then slowly pour in your milk bit by bit while whisking to avoid any lumps. Keep whisking until the batter has come...