Pesto Buddha Bowl
Elena Duggan
500g Quinoa or 500g Cauliflower Rice
Australian Extra Virgin Olive Oil
1 bunch Broccolini
1 bunch Asparagus
1 lge Zuchinni
150g Green Beans
½ bunch Spring Onions
150g Homemade or store bought pesto
1 Lemon, additional to taste
Baby Basil leaves
2 Eggs
1 poached or smoked organic chicken breast
1 Avocado
Optional additions:
Brussels sprouts
Green capsicum
Silverbeet
Baby Spinach
Pesto (Dressing)
1 head of garlic, previously confit
1 med lemon, previously confit
1 large bunch of basil, leaves only
50g Parmesan cheese
50g Pine nuts
Ground Black pepper, to taste
250g Australian Extra Virgin Olive Oil
Blitz pesto ingredients until paste is formed; continue to blitz until desired consistency – add additional lemon juice to taste and to loosen if necessary. Adjust seasoning to taste as desired. Set aside.
Heat oil in the fry pan over medium heat.
Stir fry one green ingredient at a time, until colour turns vibrant green but texture remains aldente.
In a large bowl, place quinoa and each green ingredient. Toss through desired quantity of pesto, while all still warm.
Serve with eggs, chicken, avocado as desired. Garnish with baby basil leaves, additional dressing where desired.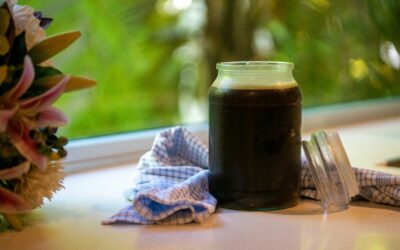 Ingredients: 2 cup caster sugar 2 cups soy sauce 1 cup shao-hsing wine 3L water 2 inch piece ginger 8 cloves garlic 6 spring onions, 5cm batons 8 star anise 8 coriander seeds 4 cinnamon quills 4 cloves 2 pork trotters Method: Place an even layer of sugar in a large...