Pickled Gherkins
Laura Sharrad
1 kg Gherkins

¼ cup non-iodized salt

2 cup white vinegar

2 cups water

2 tbsp sugar

2 tbsp salt

1 tbsp pickling spice (combination of your favourite pickling spices, such as mustard seeds, allspice berries, red pepper flakes, bay leaves, cloves, black peppercorns, cinnamon sticks)

Fresh sprigs of dill (one per jar)
Wash gherkins, rub off spikey bits and pat dry. Trim at both ends. Place in a clean bowl & sinkle with salt and store in a cool place until the salt has liquidized (a few hours)

When you are ready to go, bring to the boil water & vinegar.

Rinse the gherkins with boiling water, drain and rinse again. Put the gherkins into a hot sterilised jars, add pickling spice and fresh dill

Fill the jars almost to the top with water/vinegar liquid and run a knife around the inside of the jar to get rid of any air bubbles. 

Top the jar with liquid until it is just overflowing and ensure that all the gherkins are covered.

Using a cloth, tightly screw on the lids

They will be ready in about 3 weeks, put the jar in drive for a few hours to cool before eating.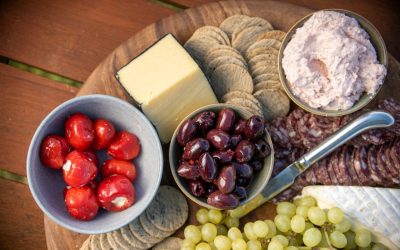 Ingredients: Hard Cheese Soft Cheese Blue Cheese 1 baguette  A bunch of Green Grapes Honeycomb Salami (sliced) Smoked Salmon Dip Artisan Crackers Beetroot dip Poppy Seed Skordalia Dip Dukkah Stuffed Bell Peppers Marinated Olives (pitted) Method: There are no rules or...