Pickled Papaya Salad with Sesame Dressing
Matt Sinclair
Serves: 2-4
½ green papaya, peeled
1 Lebanese cucumber, peeled
2 green chillies, finely sliced
4 spring onions, finely sliced
1 cup coriander leaves
1 cup shiso leaves
¼ cup well roasted sesame seeds
Dressing:
½ cup soy sauce
½ cup rice wine vinegar
4 tbsp caster sugar
4 tbsp sesame oil
1 cup shiso leaves
To prepare the papaya, shave it finely into half-moon shapes using a mandolin. You need approximately 2 cups.
Combine all dressing ingredients in a blender and strain over the shaved green papaya to begin the pickling process. Pickle until ready to serve.
Slice the cucumber into 3mm discs and set aside.
When ready to serve, remove the papaya from the dressing. Combine with all other salad ingredients, except sesame seeds. Toss the salad and use approximately 2 tbsp of the dressing to season everything. Place into a serving bowl and finish with a large spoonful of toasted sesame seeds over the top.
Our friends at Wine Selectors suggest pairing this dish with a Gewurztraminer.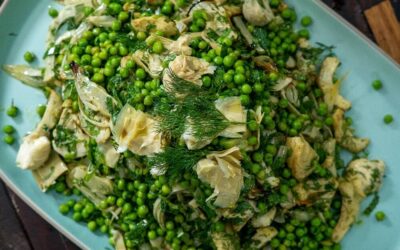 Ingredients: 500g fresh broad beans, in their pods 3–4 small fennel bulbs 250g frozen peas, thawed and rinsed 1 red onion, finely sliced 1 cup dill, finely chopped 1⁄2 bunch mint, finely chopped, plus extra whole leaves to garnish 1⁄2 bunch flat-leaf parsley, finely...