Pinoy Chicken and Grilled Bok Choy
Khanh Ong
400g chicken thighs
60ml light soy sauce
4 cloves of garlic crushed
2 shallots finely diced
1 tbsp lemon juice
1 tsp black pepper
1 tbsp brown sugar
1 tbsp kecap manis
2 tbsp tomato sauce
1⁄4 cup of beer
1 tbsp peanut oil
2 bok choys
To Serve:
2 cups cooked jasmine rice
2 spring onions sliced on the diagonal a tbsp of toasted sesame seeds
In a bowl coat the chicken thighs with all the ingredients and set aside to marinate for 30 minutes at least.
In a hot griddle pan on high heat add oil and cook the chicken for about 5-6 minutes on each side or until cooked through
Remove and place the bok choys cut in half, cut side down for 2 minutes then flip for 1 minute.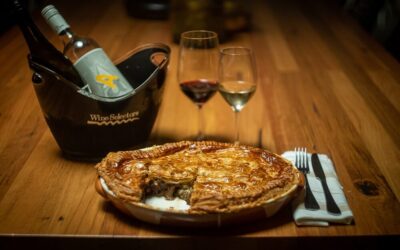 Ingredients: 1kg of chuck, flank, shin or brisket trimmed and cut into 3cm cubes 2 clove of garlic 1 small bunch of thyme 1 tspn of black peppercorns 500ml Guinness or dark ale 8 shallots peeled 1 tbsp vegemite 500gm bought puff pastry 100gm Stilton blue cheese or...