Pomelo and Prawn on Bettel Leaf
Khanh Ong
2 tsp dried prawns
1 tsp toasted peanuts
1 tsp shredded coconut
1 small thai green chili
2 coriander roots
2 slices of fresh galangal
3 slices of ginger
75g grated palm sugar
1 tbsp fish sauce
3 tbsp tamarind water
3 large prawns poached peeled and deveined
3 tbsp toasted coconut flakes
3 shallots finely chopped
2 pieces of pomelo peeled and broken up
10 big betel leaves
1 tbsp Vegetable oil
To Serve:
Coriander leaves
Fried shallots
Toasted coconut
In a mortar and pestle pound dried prawns, peanuts, coconut, chili, coriander, galangal, ginger into a paste
Cook in a small pan for 1-2 minutes in vegetable oil
Add palm sugar, fish sauce and 200ml of water and cook until sure dissolves and reduces by 1⁄4
Add tamarind water and simmer for 2-3 minutes and set aside.
In a medium bowl chop prawns small add coconut, shallots, pomelo and add 3 tbsp of sauce and combine
Place a small a tbsp into each betel leaf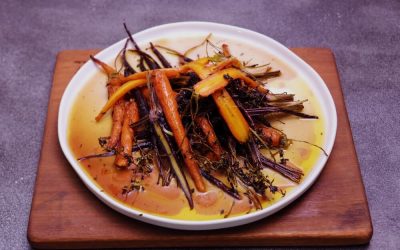 Join Elena Duggan as she creates her Honey Herbed Carrots recipe. Tune in to The Market kitchen each weekday on Channel 10.