Pork & Vegetable Ramen
Chef Kinsan
Hakubaku Organic Ramen 1 pack, cook as per pack instruction. Drain and set aside
Yeo's Pure Sesame oil
Soup
900ml Chicken stock
45ml Obento Japanese Soy Sauce
30ml Obento Mirin Seasoning
10ml Squid Brand Fish Sauce
15ml Double Phoenix Chinese Cooking Wine
4 pinches Salt
Stir-fry Garnish
150g Pork belly slice
200g Enoki mushroom
200g Garlic chives
200g Bean sprouts
Salt and pepper, as needed
Chicken Stock
2 whole ones Chicken frame
3 stalks Spring onion
30g Ginger
30g Garlic
1 Brown onion
5cm Dried Kombu
3 litres Water
In a small pot, cook soup ingredients and bring to boil.
In a frying pan, stir fry in garnish ingredients till cooked.
Place noodles in a bowl, followed by soup and with garnish on top.
Serve hot.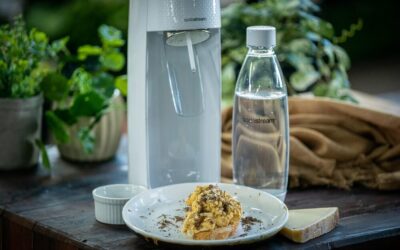 Ingredients: Serves 4 12 eggs, best quality you can afford 150ml sparkling water 2 tablespoons freshly grated parmesan Sea salt and freshly cracked pepper 20g butter 4 thick slices of sourdough, toasted/charred Method: Mix together the eggs, sparkling water, parmesan...