Prawn and Zucchini Pasta
Ben O'Donoghue
3 zucchini, yellow or green or a mix of both
100ml fruity extra-virgin olive oil
Salt 
freshly ground
Black pepper
2 garlic cloves, chopped
1 dried birdseye chilli, chopped
500g prawn meat, chopped
200g canned diced tomatoes
1 teaspoon finely chopped rosemary leaves
500g spaghetti
Wash, halve and roughly slice the zucchini. Heat 2 tablespoons of olive oil in a saucepan over medium heat. Add the zucchini and gently fry until the edges just start to turn golden, but without colouring completely. Season with salt and pepper and add 1⁄4 cup of water. Allow the liquid to evaporate while stirring and mashing the zucchini. When the liquid has evaporated, fry for about 1 minute.
Repeat with another 1⁄4 cup of water, stirring and mashing while the liquid evaporates then frying for a further minute or two. Repeat another three times. The idea is to slowly fry, steam and mash the zucchini five times all up, in order to enrich the flavour and break down the vegetables.
Add the garlic and chilli to the pan and cook for 1–2 minutes. Add the prawn meat and cook for about 5 minutes, stirring from time to time so the bottom doesn't catch. Make sure you control the heat – if the mixture starts to colour, turn the heat down. Add the tomatoes and rosemary, season with salt and pepper, then repeat the slow-frying process for a further 5 minutes.
Bring a large saucepan of salted water to a fast boil and cook the pasta, following the packet instructions. Spaghetti should take about 10 minutes to cook.
Just before the pasta is cooked and ready to drain, add the remaining olive oil to the sauce. Drain the pasta, reserving a little cooking water, combine thoroughly with the sauce and serve.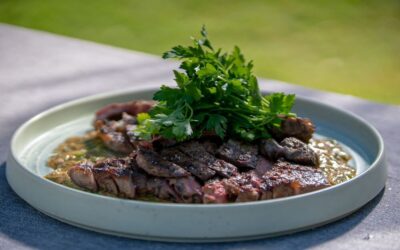 Ingredients: Serves: 2-4 2 x 250g T-bone or Rump steak Sea salt 2 Tbsp Olive oil 2 Tbsp Butter 1 brown onion, diced 2-3 cloves garlic, finely chopped 1 tsp dried chilli flakes 2 tsp dried mixed herbs 40 'twists' cracked black pepper 2 chicken stock cubes, crumbled 2-3...