Pumpkin Tom Yum Curry and Bubur Cha Cha
Kay-Lene Tan & Adam D'Sylva
Serves: 2
Ingredients:
2x Wedges of Pumpkin (skin on)
1x can of coconut milk
30ml Soy Sauce (to taste)
1 tbsp of Tom Yum Paste
1 chilli, finely sliced
1 punch of Thai basil
1 tbsp fried shallots
Bubur Cha Cha:
Kara coconut cream 2litres
Pandan leaves 6pcs
Sugar to taste
Pumpkin (diced) 200g
Yam (diced) 100g
Tapioca pearls 50g
Tapioca flour 80g
Water (boiling hot) 50g
Pumpkin Curry:
Braise pumpkin wedges in coconut milk in your saucepan for 40-50 minutes or until pumpkin is tender
Remove pumpkin and set aside. Add in Tom Yum Paste to remaining coconut milk and stir over medium heat. Add soy sauce to your taste.
Serve pumpkin on a bowl and top with Tom Yum sauce, add finely sliced chili, thai basil and shallots.
Bubur Cha Cha:
Steam diced pumpkin and tapioca.
Cook tapioca pearls in boiling water.
Bring coconut cream, pandan leaves and sugar to boil. Thin with water if needed.
Mix tapioca flour and boiling hot water into a dough and drop into hot coconut milk soup.
Add all ingredients into coconut soup. Serve warm.
Our friends at Wine Selectors suggest pairing this dish with a Viognier.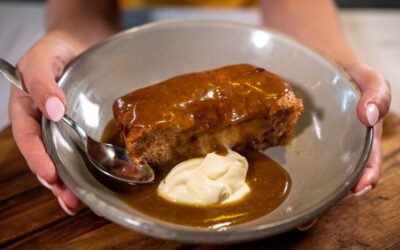 Ingredients: 185 g dates 1 cup water 60g butter 2 eggs 185g self raising flour 185g sugar 1tsp baking powder ½ tsp vanilla paste Butterscotch Sauce: 1 cup cream ¾ cup brown sugar 2 tbsp butter Pinch of salt Method: Bring the dates and water to a boil, then remove from...