Rack of Lamb with Mac and Cheese
Anthony Femia and Gary McBean
Rack of Lamb with Goats Cheese
1 rack of lamb
Salt and pepper
2 sprigs of rosemary
2 cloves garlic
50g toasted pine nuts
50g natural rind Goats Cheese, sliced
Moreton Bay Bug Mac and Cheese
500ml full cream milk
5 bay leaves
14 black peppercorns, slightly crushed
2 Leek stems, whites finely diced with 20gm butter chopped
60gm butter diced and at room temperature
60gm plain flour
500gm Comte or Swiss Gruyere grated
400gm Macaroni pasta
400gm Moreton Bay Bug meat
50ml dry white wine
Cracked pepper and salt to season. Optional Aleppo Pepper to season
200gm panko bread crumbs
Rack of Lamb with Goats Cheese
French your rack of lamb and slice a pocket along the ribs to be able to stuff ingredients. Season with salt and pepper
Lay all of the ingredients inside the pocket and wrap the lamb back together with twine. Drizzle with olive oil
Cook in a 200C oven for 20minutes and rest for 5-10 minutes before slicing.
Moreton Bay Bug Mac and Cheese
Preheat your oven to 180oC fan force with the top grill setting on.

In a heavy based saucepan put the milk, bay leaves and crushed black peppercorns on low heat until steam begins to develop. Take off heat and let it seep for 10 mins before straining into a pouring jug.

In the meantime, in a frying pan on low-medium heat, put the 20g of butter and let it melt. Once melted, put in the chopped leek and stir with a wooden spoon and cook until tender and translucent.

Pour in the 50ml of white wine and stir until absorbed. Take off heat and set aside.

In another medium saucepan, on high heat, bring 5 litres of water to the boil with 50gm of salt.

In a large heavy based saucepan on low heat, put in chopped butter and melt to clear and then sift in flour and stir to combine to make your roux. Cook this for a further 2 mins to cook out the flour, constantly stirring to reduce risk of burn and sticking to the pot. Slowly add your milk about 50ml at a time and constantly stirring to absorb each time before adding the next amount to build your bechamel. Once all the milk has been added and you have a silky smooth consistency, add your

Moreton bay bug meat and stir to mix well. Turn your heat up to low-medium and begin to add your cheese a handful at a time, again constantly stirring. Making sure that each handful is absorbed into the bechamel before adding the next. By the time all the cheese has fully incorporated, the bug meat will have slowly cooked to perfection. Turn off heat but keep stirring to avoid sticking and oxidisation of top of bechamel

Add your pasta to your boiling water and cook for roughly 7 minutes. Drain and add this to your bechamel pot and mix well to combine. Once combined well, place in a deep baking dish, evenly laid out and add your panko crumbs on top and place in a hot oven for 5-10mins until the crumbs are evenly brown.

Season with salt, pepper and optional Aleppo pepper and serve straight away.
Our friends at Wine Selectors suggest pairing this dish with a Cabernet Merlot.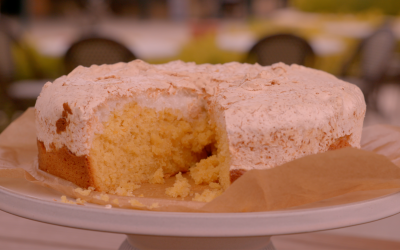 Ingredients:BASE 3 Egg Yolks 1/2 cup Caster Sugar 125g soft butter 2 cups Self-Raising flour 1 cup orange juice Vanilla   TOPPING 3 egg whites 1/2 cup caster sugar 1 cup desiccated coconut Method: Beat butter and sugar until creamy. Add yolks and vanilla. Fold in the...