Rasberry Muffins
Simone Austin
125ml Extra Virgin Olive Oil
2 eggs
¾ cup raw sugar
½ cup oats
¾ cup desiccated coconut
5 scoops Ensure chocolate powder
1 cup full cream milk
1 ½ cups self raising flour
1 cup frozen or fresh raspberries
Preheat the oven to 180 degrees Celsius.
Mix together oil, eggs and sugar until smooth
Add oats, coconut, Ensure Powder and stir until smooth
Add flour and milk gradually to form a batter.
Fold in the raspberries trying not to break them completely.
Grease and flour 12 muffin pans and fill until ¾ full
Bake at 180 degrees Celsius for 20minutes.
Serve with a dollop of vanilla or natural yoghurt that you can add extra Ensure Powder to if desired.
Talking points
This makes a great snack pre or post exercise, an afternoon tea snack or dessert.
You could add any other berries
The extra virgin olive oil provides healthy monounsaturated fats and antioxidants.
The coconut and oats add extra dietary fibre.
The Ensure Chocolate powder gives a beautiful vanilla flavour to the cake to compliment the raspberries.
For more details on Ensure, go to ensure.com.au
This makes a great snack pre or post exercise snack, or for afternoon tea or dessert.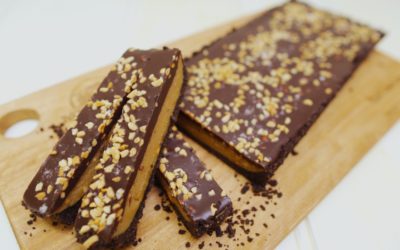 Ingredients: Base2 packets of Oreos¼ cup + 1 tbsp of melted butter1 pinch of saltFilling½ cup butter meltedCup brown sugar1 can condensed milk¼ cup of cream1 tsp salt1 cup crunchy peanut butter (or smooth)Topping150g milk chocolate chips50ml cream2 tbsp smooth peanut...