Raspberry, Lime & Yoghurt Cake
Elena Duggan
150g Almond meal
75g Buckwheat flour
1 tsp baking powder
100g Stevia
150g Unsalted butter, cubed, softened
3lge Eggs, lightly beaten
2 tsp Vanilla paste or 2 vanilla bean, seeds only
100g Greek yoghurt
2med Lime, zest and reserve juice
150g Raspberries, fresh or frozen, additional to serve if desired
50g flaked almonds
2 tbsp maple syrup
Preheat fan forced oven to 190°Celsius.
Butter and line a 20cm spring form cake tin.
Beat the butter and stevia together until pale and fluffy.
Slowly add the egg until well combined.
Remove mix from beater and fold through the flours and baking powder.
Add the vanilla, and yoghurt and fold through along with lime zest.
Pour the mixture into the cake tin and scatter the raspberries and slivered almonds into the top of the batter.
Bake the cake in the oven for 40-50 minutes or until a skewer comes out clean.
Remove the cake from the tin and allow it to cool on a rack.
Mix the lime juice and maple syrup to serve as a syrup along with additional raspberries if desired.
Notes:
If baking smaller muffins instead of a cake, cook for 20-25minutes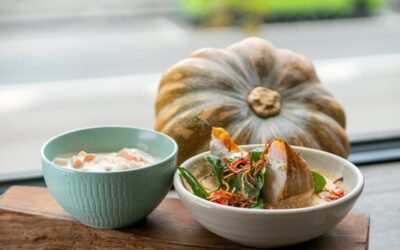 Ingredients: Serves: 2 Ingredients: 2x Wedges of Pumpkin (skin on) 1x can of coconut milk 30ml Soy Sauce (to taste) 1 tbsp of Tom Yum Paste 1 chilli, finely sliced 1 punch of Thai basil 1 tbsp fried shallots Bubur Cha Cha: Kara coconut cream 2litres Pandan leaves 6pcs...