Raw Caramel Slice
Laura Sharrad
Base:
2 cups cashews
10 pitted dates
1 cup coconut
4 tbsp liquid coconut oil
Pinch of salt
1 tsp raw cocoa powder
Caramel:
1 cup almond butter
10 pitted dates
1/4 tsp cinnamon
1/2 tsp vanilla paste
3/4 cup coconut oil
1 tsp salt flakes
Chocolate Topping:
1/2 cup melted coconut oil
1/2 cup raw cocoa powder
1/2 cup raw honey
Pinch of salt
Coconut flakes, to garnish
Blitz the base in a food processor until fully combined and still a little chunky.  Line a 20cm loaf tin or rectangle tart tray and add in your base.  Smooth it out & freeze for 10 minutes
In the meantime, blitz all the ingredients for the caramel until smooth and add on top of the frozen base.  Freeze for a further 10 minutes
Mix all the ingredients for the choc topping together and pour over the slice, add the coconut flakes and set
Cut & enjoy!
Our friends at Wine Selectors suggest pairing this dish with a Liqueur Tawny.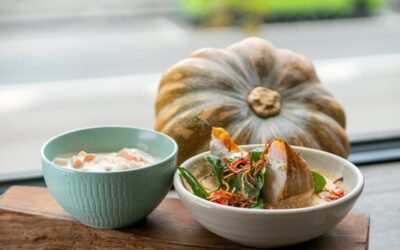 Ingredients: Serves: 2 Ingredients: 2x Wedges of Pumpkin (skin on) 1x can of coconut milk 30ml Soy Sauce (to taste) 1 tbsp of Tom Yum Paste 1 chilli, finely sliced 1 punch of Thai basil 1 tbsp fried shallots Bubur Cha Cha: Kara coconut cream 2litres Pandan leaves 6pcs...