Red Curry Paste
Elena Duggan
10g Coriander seeds
5g Cumin seeds
5 dried Chilies, soaked in water, well drained
2 Asian shallots, roughly chopped
3 Lemongrass, soft interior bottom third only, roughly chopped
50g Garlic cloves, roughly chopped
50g Ginger, peeled, roughly chopped
50g Galangal, peeled, roughly chopped
30g Tumeric, peeled, roughly chopped
1 bunch Coriander, roots only
2 Kaffir Lime leaves
5-10 White peppercorns
15g Belecan
25g Stevia monkfruit, granulated
50-100g Peanut oil
25-50g Fish sauce
1 Red Bull horn chilli
4 x Long Red chillies
In a dry fry pan, toast coriander and cumin seeds over a low to medium heat until fragrant and slightly golden. Remove from heat.
In a high-speed blender or food processor, blitz all dry curry paste ingredients until a paste is formed. Loosen with peanut oil until paste is smooth, season with fish sauce. Set aside or keep refrigerated in an airtight container until required.
It will keep for up to a week in the fridge, or 3 months in the freezer.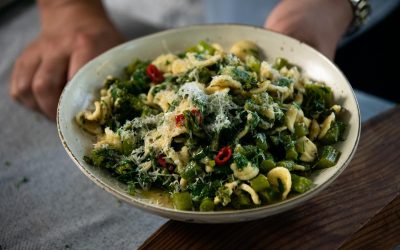 This recipe is brought to you with the help of our friends at Perfection Fresh  Ingredients: 500g orecchiette pasta Table salt for pasta water 2 heads broccolini, cut into small pieces, use stalk as well 4 birds eye chilli, sliced finely 5 cloves garlic, chopped 4...