Rhubarb & Ginger Crumble
Khanh Ong
6-8 stems of rhubarb trimmed
2 tbsp white sugar
2 tbsp chopped candied ginger
1 tsp ginger powder
100g plain flour
90g chilled butter
100g brown sugar 1
50g chopped anzac biscuits
To Serve:
Cut the rhubarb into 2cm pieces and combine in a bowl with sugar, candied ginger and ginger powder.
Place into a 2L baking dish.
Using your fingers rub flour and butter together until its like coarse breadcrumbs
Mix in sugar and biscuits and sprinkle over the top of rhubarb.
Bake at 180C for 30-35 mins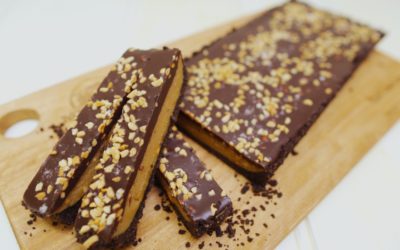 Ingredients: Base2 packets of Oreos¼ cup + 1 tbsp of melted butter1 pinch of saltFilling½ cup butter meltedCup brown sugar1 can condensed milk¼ cup of cream1 tsp salt1 cup crunchy peanut butter (or smooth)Topping150g milk chocolate chips50ml cream2 tbsp smooth peanut...