Rhubarb & Ginger Crumble
Khanh Ong
6-8 stems of rhubarb trimmed
2 tbsp white sugar
2 tbsp chopped candied ginger
1 tsp ginger powder
100g plain flour
90g chilled butter
100g brown sugar 1
50g chopped anzac biscuits
To Serve:
Cut the rhubarb into 2cm pieces and combine in a bowl with sugar, candied ginger and ginger powder.
Place into a 2L baking dish.
Using your fingers rub flour and butter together until its like coarse breadcrumbs
Mix in sugar and biscuits and sprinkle over the top of rhubarb.
Bake at 180C for 30-35 mins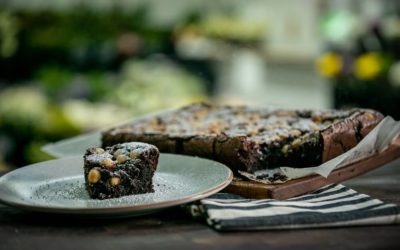 Ingredients: Makes 28 portions 12 eggs 800gm 900gm caster sugar 675gm 68% Madagascar chocolate 675gm-unsalted butter 225gm ground macadamia meal 225gm cocoa powder 300gm macadamia nuts Method: Preheat oven to 150 degrees Grease and line sponge tray with parchment...