Ricotta Hotcakes with Mandarin Syrup
Matt Sinclair
Serves: 4
Hotcakes:
1 cup plain flour, sifted
1 tsp baking powder
1 tbsp brown sugar
½ tsp salt
¾ cup buttermilk
4 eggs, separated
250g fresh ricotta
Oil or butter
100g flaked almonds, lightly toasted
Mandarin Syrup:
150ml mandarin juice
1 Tbsp lemon juice
¼ cup caster sugar
60g butter
4 mandarins, peeled, sliced crossways into 5mm thick rounds
Add the mandarin and lemon juice with the sugar into a small saucepan and place over a low-medium heat. Bring to a light simmer and stir until the sugar has dissolved. Add in half of the butter and whisk it through, before adding the rest and whisk to combine. Simmer for about 4-5 minutes until the sauce has thickened. Add in the mandarin rounds and lightly coat in the syrup. Set aside.
In a large bowl add the flour, baking powder, sugar, salt, buttermilk, egg yolks and ricotta and mix well to combine. In another bowl, whisk or beat the egg whites until soft peaks form. Carefully fold half of the egg whites through the batter, followed by the remaining half.
Place a non-stick frypan over a medium heat and grease with a little oil or butter. Pour in about 3 or 4 large spoonfuls of batter into the pan (about 1/3 cup each) and cook for about 2-3 minutes or until small bubbles begin to appear around the edges. Flip them over and cook for another minute until golden brown. Transfer to a waiting plate and repeat with the remaining batter.
To serve, stack 2 or 3 hotcakes on each plate, top with a dollop of yoghurt, drizzle with the mandarin syrup and fruit and garnish with the flaked almonds. Serve immediately.
Our friends at Wine Selectors suggest pairing this dish with a Moscato.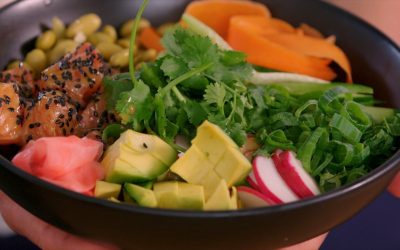 This recipe is brought to you by our friends at Healthy Life.Ingredients: 2 salmon fillets, skin off 1 cup edamame beans, frozen and blanched  1 Lebanese cucumber, sliced thinly 1 carrot, ribboned 1 avocado, diced 1/2 bunch spring onions, sliced 1 cup cooked brown...