Ricotta Sourdough Toast
Simone Austin
Serves 2
4 slices whole grain sourdough bread
Greek natural yoghurt
3 scoops Ensure Vanilla Powder
125g ricotta cheese
1⁄4 teaspoon ground cumin
1 tablespoon fresh basil (or mint), broken up into pieces
1 teaspoon finely grated lemon zest
1 teaspoon honey
8 strawberries, thinly sliced
2 teaspoons extra virgin olive oil
Balsamic glaze for drizzling
In a medium sized bowl mix the Ensure Vanilla powder and yoghurt until smooth
Crumb in the ricotta cheese, add the cumin, lemon zest, honey and oil and beat with an electric hand mix until creamy.
Spread the ricotta cheese mix evenly over the slices of sourdough bread
Top with the sliced strawberries and sprinkle with the basil or mint leaves, finishing with a drizzle of balsamic glaze on each.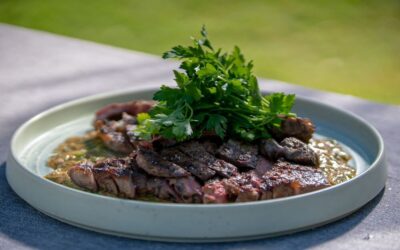 Ingredients: Serves: 2-4 2 x 250g T-bone or Rump steak Sea salt 2 Tbsp Olive oil 2 Tbsp Butter 1 brown onion, diced 2-3 cloves garlic, finely chopped 1 tsp dried chilli flakes 2 tsp dried mixed herbs 40 'twists' cracked black pepper 2 chicken stock cubes, crumbled 2-3...