Risotto Bianco
Tobie Puttock
Serves:  4
Approx 700ml chicken or vegetables stock
1 tablespoon olive oil
1 small onion, peeled, finely chopped
1 cloves garlic, peeled, finely chopped
250g Arborio rice
1/2 cup dry white wine
50g butter
50g freshly grated parmesan and a little extra for finishing
4 perfect slices of best quality prosciutto
Firstly place the stock into a pot, bring to the boil and reduce to a very light simmer.
In another large pot heat the olive oil over a low-medium heat, add the diced onion and very gently cook without colouring for about 10 minutes or until soft, translucent and without colour.
Increase the heat to medium and add the rice, stir until translucent and then splash add the wine. Keep stirring and once the wine has evaporated add a ladle of the hot stock and stir until it has been absorbed.
 Continue to add a ladle of stock at a time.
 After about 15-25 minutes the rice should be tender but "to the tooth". Remove the pot from the heat and add a final ladle of stock, the butter, grated parmesan, truffle oil and seasoning to taste, stir through and place a lid on the risotto pot and allow it to rest for a couple of minutes.
 Arrange the rice between the plates with a single slice of prosciutto draped over the rice and a little extra parmesan.
Our friends at Wine Selectors suggest pairing this dish with a Chardonnay.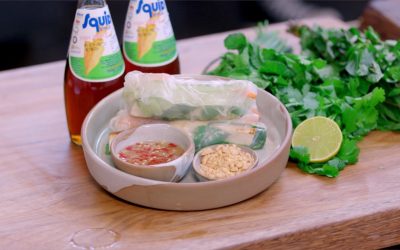 This recipe is brought to you by our friends at Asian InspirationsIngredients:Serves: 8 Prep Time: 10 mins Cook Time: 15 mins Main Ingredients: 1 packet rice paper 150g rice vermicelli noodles 1 bunch coriander 1 bunch Thai basil 1 bunch mint 1 bunch garlic chives 1⁄4...