Risotto Milanese
Tobie Puttock & Mish Delish
Serves 4
1 ½ litres beef or vegetable stock
½ teaspoon of saffron
1 small onion, peeled and finely diced
1 stick of celery, slightly peeled, washed and finely diced
Tablespoon of olive oil
200g-risotto rice, I use vialano nano
1 bay leaf
Splash of good quality chardonnay
About 50g best quality butter
Handful of good quality finely grated Parmesan
Sea salt and freshly cracked pepper
Basic Chicken Stock by Mish Delish
Makes approximately 2 litres
2 chicken carcasses
6 chicken wings
2 chicken feet (optional)
1 large onion, halved (skin intact)
1 carrot, chopped into 4 pieces
1 celery stick and leaves, chopped into 4 pieces
1 bay leaf
6-8 whole black peppercorns
1 generous pinch of salt
Cold water to cover
Firstly place the stock into a large pot and add the saffron, bring to the boil and reduce to a very light simmer.
In another large pot heat the olive oil over a low-medium heat, add the diced onion and celery and very gently cook without colouring for about 10 minutes or until soft, translucent and without colour.
Increase the heat to medium and add the rice, stir until also translucent and then splash in a little chardonnay (about a mouth full). Keep stirring and once the wine has evaporated add a ladle of the hot saffron stock and stir until it has been absorbed.
Continue to add a ladle of stock at a time.
After about 15-25 minutes the rice should be tender but "to the tooth". Remove the pot from the heat and add a final ladle of stock, the butter, grated parmesan and seasoning to taste, stir through and place a lid on the risotto pot and allow it to rest for a couple of minutes.
Arrange the rice between the plates with a little marrow on top and finish with freshly grated Parmesan.
Basic Chicken Stock
Put all the ingredients into a large stock pot and add just enough water to cover.
Place the pot over a medium heat and bring to the boil.
Lower the heat to a very gentle simmer with the lid on and cook for up to 2 hours.
Strain and store in an airtight container in the fridge for up to 5 days or freeze for later use.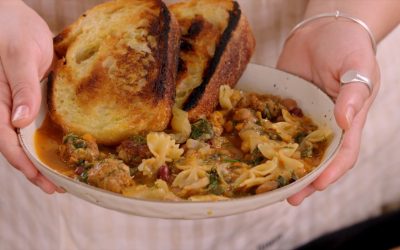 Ingredients: 4 Spicy Italian Sausages Packet of Farfalle Pasta 1 Leek 1 Carrot 1 Onion 2 Garlic 2 cups Shredded Cabbage 1 Chopped Silver Beet 1 400gm Tinned Beans 1 tsp Cumin powder 1 tsp Coriander  powder 1tsp Paprika powder 2 tbsp Tomato Paste Stock of your choice...