Roast Chook with Figs
Khanh Ong
1 tbsp EVOO
2 chicken marylands
6 sprigs of thyme
1 tsp garlic powder salt to season
50g piece of chopped pancetta
1 red onion cut into wedges
50g dried figs
3 figs halved
1 tsp brown sugar
1⁄4 cup white wine
1⁄4 cup of chicken stock
2 tsp red wine vinegar
50g goats cheese
Heat oil in a tray fit for the oven over high heat, coat the chicken with 2 sprigs of thyme, garlic powder and salt then brown for 3 minutes each side or until golden. transfer to plate.
Add pancetta, red onion and dried figs to the tray and cook on medium for 5 minutes or until pancetta is crisp, remove to plate.
Sprinkle the cut side of the figs with sugar and place cut side down on a pan and cook for about 30 seconds until the sugar caramelises. transfer to plate.
Add wine to deglaze pan then stock and vinegar, once the the liquids are reduced by 1⁄2
Return to a tray the chicken, pancetta, onions, dried figs, caramelised figs and a sprinkle of thyme over and place in an oven for 30-35 minutes at 180C.
Serve with thyme and fresh goats cheese.
Our friends at Wine Selectors recommend pairing this dish with a Sauvignon Blanc and Tomich, Gruner Veltliner.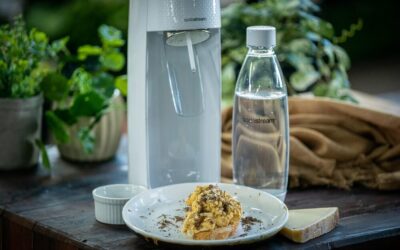 Ingredients: Serves 4 12 eggs, best quality you can afford 150ml sparkling water 2 tablespoons freshly grated parmesan Sea salt and freshly cracked pepper 20g butter 4 thick slices of sourdough, toasted/charred Method: Mix together the eggs, sparkling water, parmesan...