Salmon Caviar and Cucumber
Mike Reid
Recipe brought to you with the help of our friends at Velisha Farms
Cucumber Consommé:
½  Whole cucumber
½ Lime juiced
Salt and pepper to taste
Pickled Cucumber:
¼ Cucumber peeled, into ribbons
3 Tbsp Pickling liquid (see other recipes)
Bournoisete Capers:
100g Capers Surfine, drained
50g Butter, salted
1 Tbsp Lemon juiced
For the Tartar:
200g Wild Tasmanian Salmon, fillet
3 Tbsp Bouniroste capers
5g Caviar
2 ribbons pickled Cucumber
2 ribbons raw cucumber
1 Tsp organic Creme Fraiche
Cucumber flowers, to garnish
Viola Flowers, to garnish
Cucumber Consommé:
Juice the cucumber in your juicer, whole with skin on
Add your half a juiced lime to the liquid and store in the fridge until needed. Use on the day of making for it to taste at its best
Bournoisete Capers:
Heat your pan over a medium heat, add your butter and then add your capers. Sautee them for about 3 minutes making sure you keep the capers moving every half a minute. Just before you take them off add a squeeze of lemon to the butter and cook out for about 30 seconds
Once done take them off the stove and drain on a cloth
For the Tartar:
Add your Salmon to the bowl, then dot your lemon creme fraiche around it
Add your two different types of cucumber ribbons to the plate next followed by capers, caviar and flowers
Serve with the cucumber Consommé on the side
Our friends at Wine Selectors suggest pairing this dish with a Grenache Shiraz Mataro.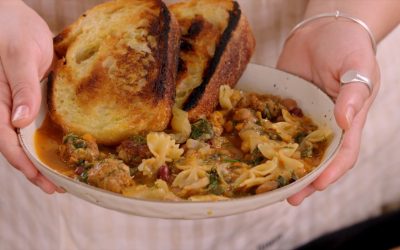 Ingredients: 4 Spicy Italian Sausages Packet of Farfalle Pasta 1 Leek 1 Carrot 1 Onion 2 Garlic 2 cups Shredded Cabbage 1 Chopped Silver Beet 1 400gm Tinned Beans 1 tsp Cumin powder 1 tsp Coriander  powder 1tsp Paprika powder 2 tbsp Tomato Paste Stock of your choice...