Salmon Coconut Ceviche
Khanh Ong
300g salmon, skin off and reserved cut into 2 cm pieces
2 tbsp lime juice
2 tbsp TCC coconut cream
1 long red chilli finely sliced
2 kaffir lime leaves shredded
1 just ripe avocado stone, peeled and cut into 2 cm pieces
2 tbsp chopped coriander
1 tbsp desiccated coconut
1 tbsp avocado oil
a pinch of salt
2 tbsp of salmon roe
Ceviche
Combine all the ingredients in a mixing bowl and mix gently.
Crispy salmon skin
Cover the salmon skin in salt them place between two lined baking trays and bake at
180 for 15 minutes until golden and crispy.
Set aside
To Serve
Scope 1⁄2 the ceviche into a large ring cutter
Top with salmon roe and coriander
Remove the ring cutter gently and then lay the 1 piece of salmon skin on the side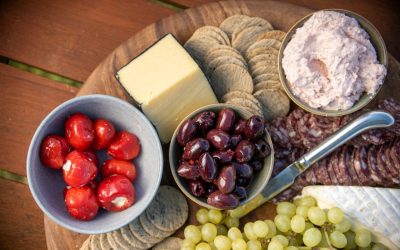 Ingredients: Hard Cheese Soft Cheese Blue Cheese 1 baguette  A bunch of Green Grapes Honeycomb Salami (sliced) Smoked Salmon Dip Artisan Crackers Beetroot dip Poppy Seed Skordalia Dip Dukkah Stuffed Bell Peppers Marinated Olives (pitted) Method: There are no rules or...