Salmon Flake Onigiri
Kinsan
2 cups Medium Short Grain Rice, cook as per pack instruction
150g Salmon fillet
Salt (to taste)
2 tbsp Roasted White Sesame Seed 2 tbs
3 sheets Obento Yaki Nori for Sushi
Obento Japanese Soy Sauce (to taste)
Kewpie Mayonnaise (to taste)
2-4 cups water
Season salmon with salt. Grill in oven for 7 minutes or until cooked through.
Once cooked through, use a fork and flake the salmon finely into a bowl.
Lightly toast 2 Obento Yaki Nori for Sushi on stove till crispy and warm. Break into small pieces into salmon bowl and add in roasted sesame seeds.
Add Obento Japanese Soy Sauce and Kewpie Mayonnaise to taste.
Place rice in a large mixing bowl, stir in desired amount of the salmon flake mixture. Use your hands to grab a handful of rice and make a shape of a ball.
Plate on a dish together with some Obento Yaki Nori for Sushi as garnish.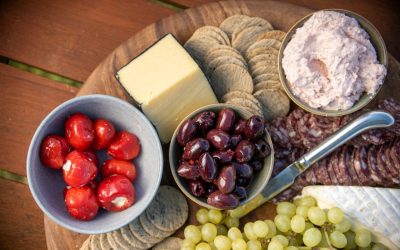 Ingredients: Hard Cheese Soft Cheese Blue Cheese 1 baguette  A bunch of Green Grapes Honeycomb Salami (sliced) Smoked Salmon Dip Artisan Crackers Beetroot dip Poppy Seed Skordalia Dip Dukkah Stuffed Bell Peppers Marinated Olives (pitted) Method: There are no rules or...