Salmon Poke Bowl
Mike Reid
60g salmon, raw
170g Brown rice, cooked
1g Black & White Sesame Seeds
½ Avocado Hass
30g Carrots
2g Red Chilli
10g Coriander, fresh
½ Lime
30ml Kewpie Mayonnaise
10g Pickled Ginger
20g Red Cabbage
5ml Suduchi Juice or Yuzu Juice
Cut the salmon into an even size dice and macerate in the sudachi juice.
In the meantime peel and freshly grate the carrot.
Heat the rice and arrange into the bowl.
Start to build your bowl – arrange the macerated salmon onto the rice.
Arrange the pickled ginger, grated carrot, mayonnaise, freshly scooped avocado, fresh picked coriander and pickled red cabbage as in the photograph.
Sprinkle a mixed colour of sesame seeds (toasted in advance) over the salmon.
Finish with a half grilled lime and thinly sliced rounds of red chilli.
Our friends at Wine Selectors suggest pairing this dish with a Rose.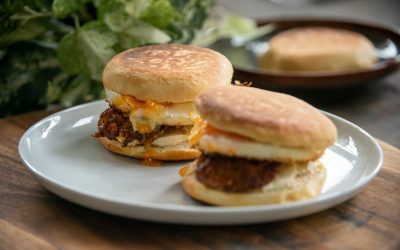 Ingredients: 300ml milk, plus extra 7g sachet of dried yeast 25g white caster sugar 50g shortening or lard 425g plain flour, plus extra 20g polenta, optional Unsalted butter Method: Gently warm the milk in a pan until lukewarm or body temperature, 37ºC. Add the yeast...