Salmon Red Curry
Karen Chan
½ jar Valcom Red Curry Paste
6 Thai eggplant, quartered
1 salmon filet, skin on, 200 g
6 pieces of lychees from UFC Lychees in Syrup, drained (set aside juice for cooking)
1/2 cup juice from UFC Lychees in Syrup
1 cup TCC Premium Coconut Milk
2 tbsp oil
Garnish:
Thai basil,
Fresh coriander
Finely sliced kaffir lime leaves
Place the salmon on the cutting board, skin side down. Firmly hold one end of the skin, and cut between the flesh and the skin (cutting as close to the skin as possible). Sprinkle salt on both sides of the skin, set aside. Cut the salmon to 2cm slices.
Heat 1 tbsp of oil in a skillet over low heat. Place in salmon skin and fry until brown and crispy. Set aside.
In a saucepan, add in juice, TCC Premium Coconut Milk and Valcom Red Curry Paste and bring to the boil.
Add eggplant and reduce heat to simmer for 3-5 minutes until eggplant is tender.
Add salmon and lychees and bring to boil. Turn off heat and rest for 5 minutes.
Garnish, place salmon skin on top and serve hot.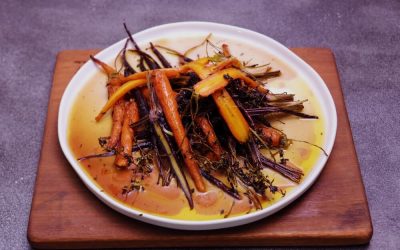 Join Elena Duggan as she creates her Honey Herbed Carrots recipe. Tune in to The Market kitchen each weekday on Channel 10.