Serves: 8
200g Safcol Salmon in Springwater, drained
1 tbsp oil
1 onion, diced
2 stalks curry leaves, stalk removed
1 potato, cooked, peeled and cubed
2 tbsp of your favourite curry powder mixed with ¼ cup water to form a paste
Salt to taste
1/3 cup peas (frozen peas works really well in this recipe)
2 sheets shortcrust pastry
1 egg, beaten
Preheat the oven to 205c.
In a hot pan, add the oil and fry the onions until translucent, before adding the curry leaves.
Add the curry paste and cook for 2 minutes. Add in salmon, potato and peas, and stir through to mix well. Set aside to cool completely. Divide the mixture to 8 portions.
Cut each pastry sheet to 4 squares.
Spoon a portion of filling to the middle of a pastry square. Fold over and pinch along all sides to seal in the filling. Place on a baking tray. Repeat with the remaining filling and pastry.
Brush with beaten egg, place tray into the oven and bake for 15 minutes.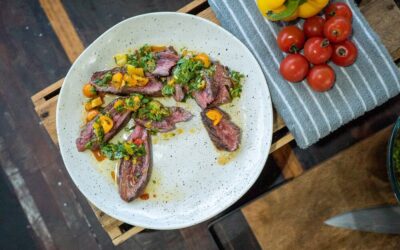 Ingredients: Serves: 4 800g Hanger Steak Sea Salt 1 small yellow pepper, seeds removed, roughly chopped 6 Yellow baby Tomatoes 1 small red chilli, seeds removed ½ tsp dried flaked chillies 2 Garlic cloves, peeled 20g fresh parsley, including any tender stalks 10g each...