Salmon Sushi Inside Out Roll
Khanh Ong
1 cup of uncooked kokuho rose sushi rice
3 tbsp rice wine vinegar
1 tbsp caster sugar
1 tsp salt
3 sheets of Obento Yaki Nori
1 cucumber cut into strips
1⁄2 an avocado cut into strips
1 container of tobiko (flying fish roe) 300g (optional)
300g sashimi grade salmon
Kewpie mayo
cook the rice to the packet instructions
combine vinegar, sugar and salt
mix into the cooked warm rice
set aside
To serve:
cut the 1/3rd of the nori off and then place the sheet shiny side down onto a bamboo sushi mat.
cover mat with rice but still leaving gaps so u can see the shine through.
flip the nori covered in rice over.
place a line of cucumber and avocado onto the nori
spread some tobiko over the nori also
slice the salmon into thin strips and place a line over nori
roll the nori using the bamboo roller but keep it tight.
place more strips of salmon over the roll and shape using the bamboo mat.
slice the sushi roll cover with some drizzles of mayo and then tobiko
using a flame torch, char the salmon and tobiko.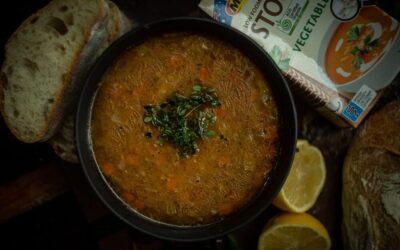 Ingredients: 500g dried chickpeas, soaked in cold water overnight 1-2 sticks of celery, finely chopped 1 large onion, chopped 150ml extra virgin olive oil, plus extra for serving Juice of 1 lemon, or more if needed 2 tbsp fresh flat-leaf parsley, chopped A sprinkling...