Scallops with Beurre Noisette
Tobie Puttock
Recipe brought to you by our friends at Wine Selectors
Serves: four as a starter
Approx 250g scallops with the shell, cleaned.
Sea salt and cracked pepper
Tablespoon olive oil
Sprig of thyme
2 tbsp butter
1/2 tbsp mustard fruits, finely chopped
1/2 tbsp finely chopped parsley
1/2 lemon for serving
Pop a heavy based pan over a high heat.
Pat the scallops dry using kitchen paper and then season generously with sea salt.
Once the pan is hot add the oil and carefully place the dry scallops into the pan making sure they have room and the pan is not overloaded. The scallops should start sizzling right away.
Cook the scallops for a minute or two depending on size but don't move them until they are ready to flip.
Once golden on the first side flip using a spatula. Add the butter, thyme and mustard fruit to the pan and cook for another minute.
Remove the scallops to the shell to serve or a serving plate. Remove the pan from the heat and a little of the chopped parsley and finally a squeeze of lemon juice. Shake the pan too combine the ingredients and then spoon a little of the nutty mustard fruit butter over the scallops and serve right away.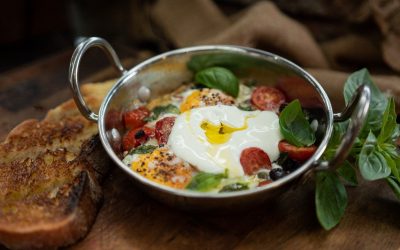 Ingredients: 9 cherry tomatoes, halved 1 small garlic clove, thinly sliced 2 tsp good-quality olive oil 1 tsp balsamic vinegar 5 basil leaves, torn, plus a few extra to serve if you like 5 pitted olives, sliced 2 large free-range egg 1 tsp small capers, rinsed salt...