Sesame Beef Vermicelli Salad
Khanh Ong
250g Thinly sliced scotch fillet
1⁄2 onion thinly sliced
1.5 tsp Yeo's sesame oil
2 tsp Lee Kum Kee soy sauce
2 tsp sesame seeds
1 tbsp butter
80g dry vermicelli noodles
1 lebanese cucumber
1 carrot julienned
1⁄2 a cup of bean shoots
1⁄4 cup of mint leaves
1⁄4 cup vietnamese mint leaves
1⁄4 cup coriander leaves
80ml Nuoc Cham Dressing
1 tbsp crushed roasted peanuts
Combine scotch fillet, onion, sesame oil, soy sauce, sesame seeds in a medium mixing bowl for 15 minutes.
In a large wok or fry pan melt the butter, then add the scotch fillet and cook while tossing for 2 minutes.
Remove and set aside.
In a bowl add all remaining ingredients except nuoc mam dressing and crushed peanuts and toss to combine.
Split the salad into two bowls, top with beef and finish with nuoc mam and peanuts.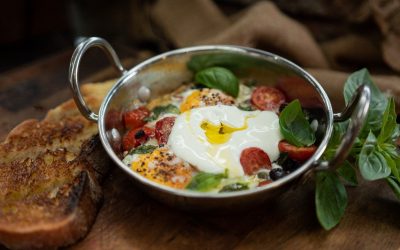 Ingredients: 9 cherry tomatoes, halved 1 small garlic clove, thinly sliced 2 tsp good-quality olive oil 1 tsp balsamic vinegar 5 basil leaves, torn, plus a few extra to serve if you like 5 pitted olives, sliced 2 large free-range egg 1 tsp small capers, rinsed salt...