1 tbsp EVOO
1⁄2 a red onion thinly sliced
1 small red capsicum thinly sliced
2 garlic cloves crushed
1 long red chilli finely chopped
1 tsp sweet paprika
1 tsp ground cumin
1 tsp ground coriander
1 tsp chilli flakes
1⁄2 tsp sugar
300g tinned tomatoes
4 eggs
To Serve:
parsley & crusty bread loaf
In a small saucepan add EVOO and red onion and cook till softened 3-4 minutes
Add capsicum, garlic and red chili and cook for another 3-4 minutes until softened
Add paprika, cumin, coriander, chili and sugar and cook for 30 seconds.
Add tomatoes and cook for 6-8 minutes until thickened.
Crack in 4 eggs and turn heat down to low and cook covered for 4-6 minutes.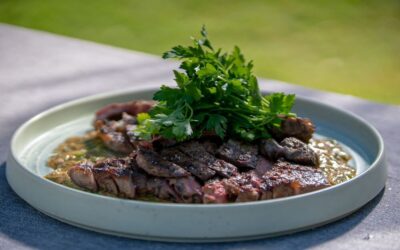 Ingredients: Serves: 2-4 2 x 250g T-bone or Rump steak Sea salt 2 Tbsp Olive oil 2 Tbsp Butter 1 brown onion, diced 2-3 cloves garlic, finely chopped 1 tsp dried chilli flakes 2 tsp dried mixed herbs 40 'twists' cracked black pepper 2 chicken stock cubes, crumbled 2-3...