Sicilian Veal Meatballs
Tobie Puttock
Serves: 4
50g fresh homemade breadcrumbs
50ml milk
250g-ground pork
250g-ground veal
Good handful of freshly grated pecorino
Zest of one lemon
2 teaspoons of fennel seeds
Small handful of freshly picked marjoram
2 cloves of garlic
Sea salt and freshly ground pepper
40 small or 20 large lemon leaves
Pop the breadcrumbs and the milk into a mixing bowl and allow to sit for a few moments.
While the breadcrumbs are soaking, toast the fennel seeds in a dry pan for a minute or so or until you can smell the aromas. Remove right away and grind in a mortar and pestle, add the marjoram and the garlic along with a pinch of salt and grind to a paste.
Add the marjoram and garlic mixture to the bowl with the bread and now add the pork, veal, pecorino and the lemon zest and use your hands to mix thoroughly. Season with salt and pepper.
Shape the mixture into patties the size of golf balls, flattening them slightly. Place a lemon leaf on each side of each pattie or if you are using larger leaves you can wrap one around both sides of a pattie, you may need a toothpick to secure it.
Cook the meatballs over a pre-heated BBQ for a couple of minutes on each side and serve.
Our friends at Wine Selectors suggest pairing this dish with a Grenache.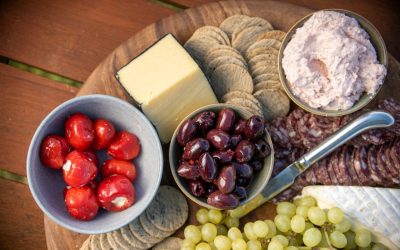 Ingredients: Hard Cheese Soft Cheese Blue Cheese 1 baguette  A bunch of Green Grapes Honeycomb Salami (sliced) Smoked Salmon Dip Artisan Crackers Beetroot dip Poppy Seed Skordalia Dip Dukkah Stuffed Bell Peppers Marinated Olives (pitted) Method: There are no rules or...