Smashed Avo with Oven Baked Tomatoes
Joel Feren
Serves 2
1 avocado, peeled, pitted, cubed
2 scoops Ensure Neutral powder
Juice of ½ a lime
1 tbsp chopped basil
1 garlic clove, crushed
2 slices grainy sourdough bread, toasted
250g cherry truss tomatoes
2 tbsp extra virgin olive oil
Salt and pepper to taste
Balsamic glaze to serve
Preheat the oven to 180°C and line a baking tray with baking paper.
Place tomatoes on a baking tray and drizzle with 1 tbsp of oil. Cook for 10 minutes. Remove from the oven and set aside.
Add avocado, Ensure powder, lime juice, garlic, basil and seasoning to a mixing bowl and gently mash with a fork to combine. Make sure there are no visible lumps of Ensure powder in the mixture.
Drizzle toasted grainy sourdough slices with remaining oil.
Generously spread avocado mixture on toast and top with roasted cherry tomatoes.
Drizzle with balsamic glaze prior to serving.
Consider serving with eggs and/or bacon.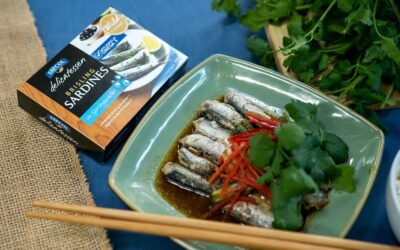 Ingredients: 110g Safcol Sardines in Springwater, drained 2 tbsp oil 1 clove garlic, sliced 2 slices ginger, julienned 2 spring onions, cut to 2cm lengths 1 tbsp brandy (you may substitute this with Chinese cooking wine) 2 tsp black bean sauce (available in the Asian...