Smokey Saracha Noodles
Khanh Ong
3 lap chung
1 tsp veg oil
1⁄4 cup of garlic chives
200g cooked flat rice noodles
2 tsp light soy
1 tsp dark soy
1 tsp kecap manis
1 tsp sriracha
2 eggs
To Serve:
bean shoots
fried shallots
Thinly slice the lap chung and cook in a hot wok with veg oil for 1 – 2 minutes tossing constantly.
Add the garlic chives and noodles and give it a quick toss
Add in the soy sauces, kecap manis and sriracha and cook stirring for 2 minutes then leave to caramelise for 1 minute without touching
Make room in half the wok and break two eggs into the space and cook the eggs gently stirring
Once eggs are cooked toss well with all other ingredients in the wok
Turn heat off and then mix with the bean shoots
Serve immediately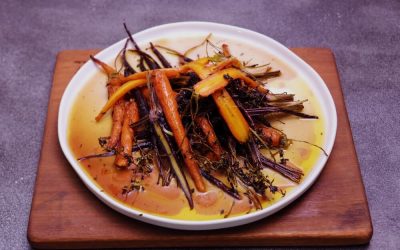 Join Elena Duggan as she creates her Honey Herbed Carrots recipe. Tune in to The Market kitchen each weekday on Channel 10.