Snapper Wings, Warrigal Greens, Native Lime
Alastair McLeod
1kg large snapper wings
½ cup plain flour
Sunflower oil for frying + additional for warrigal greens
80g butter
50g Bauple nuts, cracked
6 finger lime
1 lime
2 tbsp flat leaf parsley, finely chopped
2 large handfuls warrigal greens + other coastal flora
Sea salt and freshly milled pepper
Clean and scale snapper wings then pat dry with a paper towel. Cover with flour and shake off excess.
Heat oil in a large wok to 180C. Carefully place wings in oil and fry until crisp and golden then transfer to a cake rack set over a baking tray and season with salt.
Meanwhile, preheat a heavy based fry pan over medium heat, add butter and Macadamia and increase the heat. Once the butter starts to foam and turn brown remove from the heat, add finger lime, lime juice and parsley and stir to combine.
Season to taste.
To steam warrigal greens, drizzle a little oil in a preheated pan, add greens, a splash of water and cover with a lid until just wilted.
Arrange greens and wings on a plate and spoon over Macadamia butter sauce.
Our friends at Wine Selectors suggest pairing this dish with a Riesling.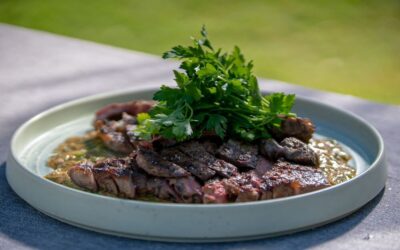 Ingredients: Serves: 2-4 2 x 250g T-bone or Rump steak Sea salt 2 Tbsp Olive oil 2 Tbsp Butter 1 brown onion, diced 2-3 cloves garlic, finely chopped 1 tsp dried chilli flakes 2 tsp dried mixed herbs 40 'twists' cracked black pepper 2 chicken stock cubes, crumbled 2-3...