Southern Fried Chicken Sandwich
Ben O'Donoghue
Sando
Sliced jalapeno chilli pickled
600g chicken tenders
Sunflower oil for frying
Kewpie sesame dressing
Avocado
Tomato
Iceberg lettuce
½ cup butter milk / yoghurt
Soft white bread
Crumb
1 ½ cup chickpea flour
1 tsp onion powder
¼ tsp cayenne pepper
¼ tsp garlic powder
1 Massel stock cube chicken
1tsp black pepper cracked
1 ½ tsp baking powder
Place the chicken tenders in the yoghurt and season with salt and pepper
Slice the avo, tomato and lettuce
For the crumb combine all the ingredients in a bowl
To cook the chicken, heat 1 cup of sunflower oil in a fry pan, dip the chicken tenders into the flour mixture and shallow fry until crispy remove from the oil and drain.
Arrange the sliced avocado, lettuce and tomato on the soft white bread. Dress with lashings of sesame dressing and top with fried chicken tenders and top with the remaining bread.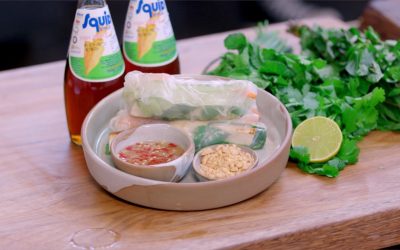 This recipe is brought to you by our friends at Asian InspirationsIngredients:Serves: 8 Prep Time: 10 mins Cook Time: 15 mins Main Ingredients: 1 packet rice paper 150g rice vermicelli noodles 1 bunch coriander 1 bunch Thai basil 1 bunch mint 1 bunch garlic chives 1⁄4...