Spiced Butter-Baked Cauliflower
Elena Duggan
1 Cauliflower (approx. 1.4kg)
½ tsp Ground Cumin
150g Butter
50g Olive oil
100g Tahini
Sprinkle of sumac
50g Lemon Juice
Olive oil additional, to loosen sauce
Sesame seeds, to sprinkle
Preheat oven to 170 degrees Celsius.
Place butter, olive oil and cumin on oven tray until melted, remove tray.
Place flat half of cauliflower on roasting tray, cover in alfoil.
Roast for 70-80 minutes, basting three times.
Remove alfoil and increase temperature to 190 and bake for a further 10 minutes uncovered.
Create dressing using tahini, lemon juice and olive oil to desired consistency.
Remove cauliflower from the oven, offered one final gloss over with spiced butter, before squeezing tahini dressing over the top, followed by sesame seeds and sumac.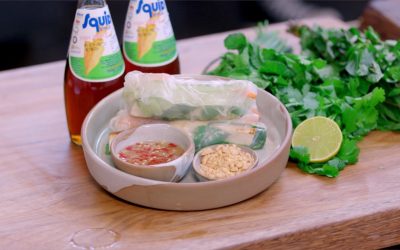 This recipe is brought to you by our friends at Asian InspirationsIngredients:Serves: 8 Prep Time: 10 mins Cook Time: 15 mins Main Ingredients: 1 packet rice paper 150g rice vermicelli noodles 1 bunch coriander 1 bunch Thai basil 1 bunch mint 1 bunch garlic chives 1⁄4...