Spiced Butter-Baked Cauliflower
Elena Duggan
1 Cauliflower (approx. 1.4kg)
½ tsp Ground Cumin
150g Butter
50g Olive oil
100g Tahini
Sprinkle of sumac
50g Lemon Juice
Olive oil additional, to loosen sauce
Sesame seeds, to sprinkle
Preheat oven to 170 degrees Celsius.
Place butter, olive oil and cumin on oven tray until melted, remove tray.
Place flat half of cauliflower on roasting tray, cover in alfoil.
Roast for 70-80 minutes, basting three times.
Remove alfoil and increase temperature to 190 and bake for a further 10 minutes uncovered.
Create dressing using tahini, lemon juice and olive oil to desired consistency.
Remove cauliflower from the oven, offered one final gloss over with spiced butter, before squeezing tahini dressing over the top, followed by sesame seeds and sumac.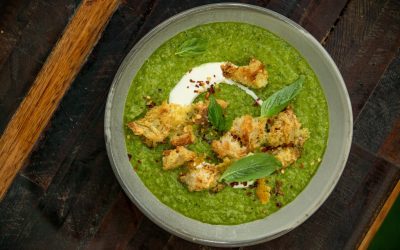 Ingredients: 2 heads broccoli 1 large leek, halved lengthwise, rinsed 2 tbsp extra virgin olive oil 1 head garlic, unpeeled 4 cups (1L) chicken or vegetable stock 120g baby spinach leaves 125g sour cream, plus extra to serve Chilli flakes & herbs, such as basil,...