Spicy Salmon Quesadilla / Toastie
Karen Chan
Serves: 2
200g Safcol Salmon in Springwater, drained
1 tbsp oil
1 small onion, diced
1 tsp minced garlic
2 tsp paprika (sweet or smoked paprika works well)
1 tsp cumin powder
1/4 tsp cinnamon
1 green chili – sliced
Handful fresh coriander, roughly chopped
1/2 tsp salt
1 cup shredded cheddar/ tasty cheese
2 flour tortillas (or sliced bread to make toasties)
1 tomato, sliced
Salsa for serving
In a hot pan, add the oil and fry the onions until translucent, before adding the garlic.
Add in paprika, cumin and cinnamon and fry for another minute before adding the salmon and chili. Season to taste. Set aside.
Wipe the pan clean with a paper towel.
On a low heat, place the tortilla on the pan. Spread some of the mixture on half of the tortilla, top with sliced tomatoes and grated cheese. Fold the other side of the tortilla over. Using a spatula, hold it in place white the cheese melts. Flip it over to toast the other side.
Serve with salsa or tomato sauce.
Our friends at Wine Selectors suggest pairing this dish with a Rose.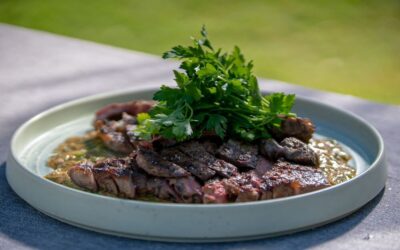 Ingredients: Serves: 2-4 2 x 250g T-bone or Rump steak Sea salt 2 Tbsp Olive oil 2 Tbsp Butter 1 brown onion, diced 2-3 cloves garlic, finely chopped 1 tsp dried chilli flakes 2 tsp dried mixed herbs 40 'twists' cracked black pepper 2 chicken stock cubes, crumbled 2-3...