Spicy Sweet Pulled Pork
Karen Chan
Recipe brought to you with the help of our friends at Asian Inspirations
800g pork scotch
Water to cover
4 tbsp ABC Sweet Soy Sauce Kecap Manis
Chilli flakes
Spice Paste:
8 tbsp shallots (minced)
4 tsp garlic (minced)
4 tsp galangal powder
1 tsp black pepper
4 tsp coriander powder
2 tsp chilli powder
8 tbsp oil
To Prep:
Mix all spice paste ingredients in a bowl and allow to sit for 10 mins.
To Cook:
Heat pot over medium heat and stir-fry the paste until fragrant and the oil splits from the paste, about 5 mins.
Add pork and water. Cover and simmer until pork is tender (about 1.5-2 hrs).
Remove pot from the heat and shred cooked pork using 2 forks. Then, return to the stove on low heat. As the sauce simmers, add ABC Sweet Soy Sauce Kecap Manis. Season with  salt and sugar.
Garnish with chilli flakes and serve with steamed rice, blanched greens and extra drizzle of ABC Sweet Soy Sauce Kecap Manis.
Our friends at Wine Selectors suggest pairing this dish with a Grüner Veltliner.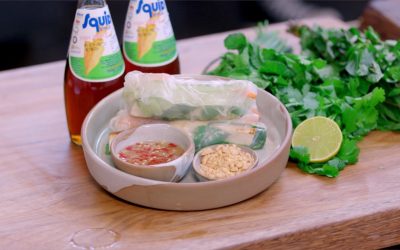 This recipe is brought to you by our friends at Asian InspirationsIngredients:Serves: 8 Prep Time: 10 mins Cook Time: 15 mins Main Ingredients: 1 packet rice paper 150g rice vermicelli noodles 1 bunch coriander 1 bunch Thai basil 1 bunch mint 1 bunch garlic chives 1⁄4...