Spinach and Fetta Muffins
Joel Ferren
1 cup Ensure Vanilla powder
2 cups self-raising flour, sifted
1 egg
1 cup milk
1⁄4 cup vegetable oil
250g frozen spinach, thawed and drained
150 feta cheese, crumbled
1⁄2 cup semi-dried tomatoes, roughly chopped
2 tbsp grated parmesan cheese
2 tbsp parsley, finely chopped
Salt and pepper to season
Preheat oven to 160° C.
Grease 12 muffin cups.
Combine flour, Ensure powder, spinach, parmesan cheese, feta, parsley and semidried tomatoes in a large bowl.
Whisk egg, milk, and vegetable oil in another bowl until smooth; pour into dry mixture and stir until batter is just blended. Fill prepared muffin cups.
Bake in oven for 18-20 minutes.
Remove from tray and allow to cool on wire rack.
For more details on Ensure, go to ensure.com.au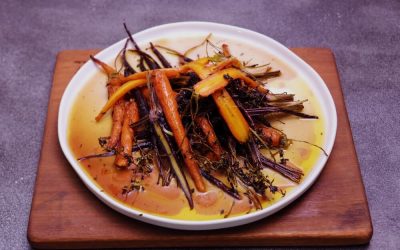 Join Elena Duggan as she creates her Honey Herbed Carrots recipe. Tune in to The Market kitchen each weekday on Channel 10.