Sri Lankan Tuna Pan Rolls
Karen Chan
Serves: 8 pieces
8 sheets spring roll wrappers (available in the frozen section of supermarkets or Asian grocer)
3 eggs, beaten
1 cup breadcrumbs
Oil for shallow frying
Filling
185g Safcol Tuna in Springwater, drained
2 hard-boiled eggs – cut to cubes
1 medium potato, boiled, peeled and cubed
1 small green chili, diced
1 small onion, diced
1 tsp minced garlic
1 tsp minced ginger
2 tbs of your favourite curry powder, mixed with 4 tbs water to form a paste
1tbs oil
Handful of chopped fresh coriander
Salt to taste
In a hot pan, add oil and then the onions, garlic and ginger and fry until golden brown.
Add curry powder paste and fry for another minute, before adding tuna, eggs, potatoes, green chilies and coriander. Stir to coat well. Season with salt. Set aside to cool completely and divide to 8 portions.
Lay out a spring roll wrapper, so that 1 corner is facing you, and the opposite corner faces away from you.
Spoon a portion of the filling onto the centre of the wrapper. Shape the filling into a thin, horizontal 10 cm log.
Lift the bottom corner of the wrapper over to meet the opposite corner. Bring both side corners to the centre. Roll the bottom (where the filling sits) towards the top. Brush the top corner with beaten egg and then roll to seal. Set aside and proceed with the remaining filling and wrappers.
Heat a skillet with 2 cm deep oil on low to medium heat.
Dip each roll in beaten egg and then coat with breadcrumbs. Repeat with a second coat of egg and another coat of breadcrumbs. Gently place into the hot oil and fry on all sides until golden brown.
Serve as a snack or a light lunch.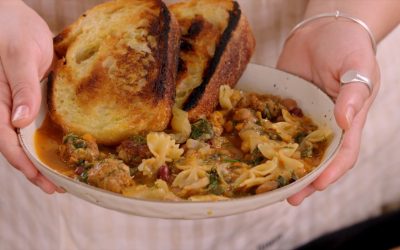 Ingredients: 4 Spicy Italian Sausages Packet of Farfalle Pasta 1 Leek 1 Carrot 1 Onion 2 Garlic 2 cups Shredded Cabbage 1 Chopped Silver Beet 1 400gm Tinned Beans 1 tsp Cumin powder 1 tsp Coriander  powder 1tsp Paprika powder 2 tbsp Tomato Paste Stock of your choice...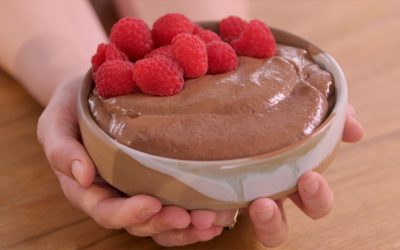 Ingredients: Plant-based milk Chia seeds Cacao powder Maple syrup Vanilla extract or paste Method: Combine all of the ingredients in a high-speed blender and blend until smooth. If you prefer to eat the seeds whole, you can skip the blender and combine the ingredients...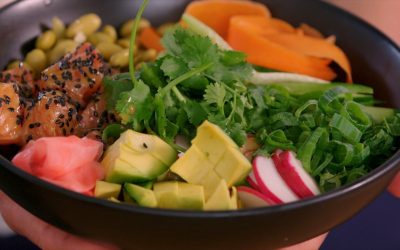 This recipe is brought to you by our friends at Healthy Life.Ingredients: 2 salmon fillets, skin off 1 cup edamame beans, frozen and blanched  1 Lebanese cucumber, sliced thinly 1 carrot, ribboned 1 avocado, diced 1/2 bunch spring onions, sliced 1 cup cooked brown...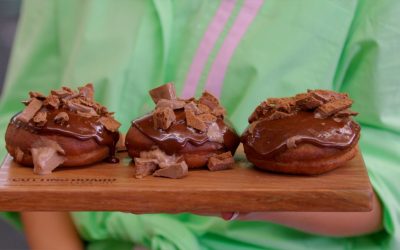 Ingredients: 7 gm (1 sachet) dried yeast 360 gm plain flour 55 gm (¼ cup) caster sugar 150 ml lukewarm milk 40 gm softened butter 1 egg 250 gm milk chocolate, finely chopped 190 gm crème fraîche 70 ml pouring cream For deep-frying: vegetable oil 3-4 Tim Tams, coarsely...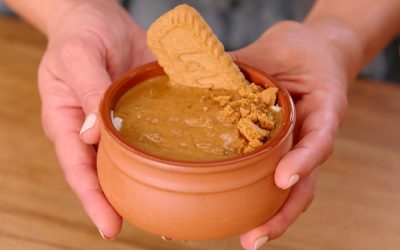 Ingredients: 4 cups full cream milk 1/2 cup medium-grain rice 1 + 1/2 cups of water 1/4 tsp salt 1/2 cup caster sugar 2 tbs heaped tbsp cornflour 1 Vanilla bean or 1 tsp vanilla bean paste Traditional topping option Greek Cinnamon to dust the top Or Lotus Biscoff...
Ingredients: 1 very ripe banana (about 120g) 3 eggs, whisked 20g scoop vanilla plant-based protein powder 2 teaspoons of maple syrup 70g (1/2cup) quartered strawberries 1 tablespoon tapioca flour 1 teaspoons extra-virgin olive oil Method: SERVES 1 Place your banana in...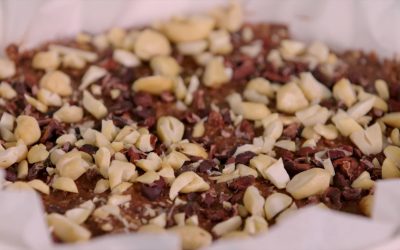 This recipe is brought to you by our friends at Healthy Life. Ingredients: 2 Bananas 300g of raw Cashews (unsalted & unroasted) 6 - 8 Pitted Dates 2 tablespoons of Cinnamon powder 2 tablespoons of Raw cacao powder  Cacao Nibs Pinch of Salt Method: In a food...