Sticky Lemongrass Chicken Wings
Khanh Ong
1⁄2 a lemongrass finely grated
1 clove of garlic grated
2 tbsp Pantai sriracha sauce
60ml treacle
60ml rice wine vinegar
60ml Lee Kum Kee Soy Sauce
1 kg chicken wings
4 bok choy halved
To serve;
coriander leaves
steamed rice
lime wedges
combine all the ingredients besides wings and bok choy in a baking tray
place chicken wings into the tray and coat well
roast wings, turn every 8 minutes on 180C for 30-35 minutes or until cooked through and caramelized
add boy choy in the last 8 minutes
Serve with steamed jasmine rice, top with coriander leaves and lime on the side.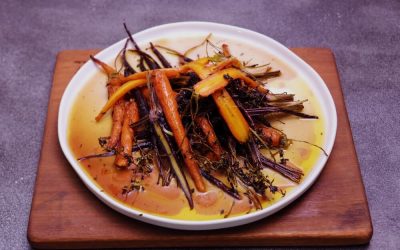 Join Elena Duggan as she creates her Honey Herbed Carrots recipe. Tune in to The Market kitchen each weekday on Channel 10.