Sticky Lemongrass Chicken Wings
Khanh Ong
1⁄2 a lemongrass finely grated
1 clove of garlic grated
2 tbsp Pantai sriracha sauce
60ml treacle
60ml rice wine vinegar
60ml Lee Kum Kee Soy Sauce
1 kg chicken wings
4 bok choy halved
To serve;
coriander leaves
steamed rice
lime wedges
combine all the ingredients besides wings and bok choy in a baking tray
place chicken wings into the tray and coat well
roast wings, turn every 8 minutes on 180C for 30-35 minutes or until cooked through and caramelized
add boy choy in the last 8 minutes
Serve with steamed jasmine rice, top with coriander leaves and lime on the side.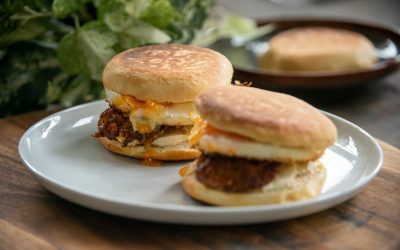 Ingredients: 300ml milk, plus extra 7g sachet of dried yeast 25g white caster sugar 50g shortening or lard 425g plain flour, plus extra 20g polenta, optional Unsalted butter Method: Gently warm the milk in a pan until lukewarm or body temperature, 37ºC. Add the yeast...