Stir Fried Noodle with Beef
Chef Leslie Chan
Recipe brought to you with the help of our friends at Asian Inspirations
120g Porterhouse steak (sliced)
200g Egg noodle
2 tbsp oil
100g bean sprouts (trimmed)
50g Red onion
2 spring onion stalks (cut into 5cm lengths)
Sauce:
1 tsp light soy sauce
1 tsp ABC Sweet Soy Sauce
1 tsp potato starch
1⁄4 tsp chicken powder
1⁄4 tsp salt
1⁄4 tsp sugar
1⁄2 tsp Yeo's Pure Sesame Oil
100 ml water
Mix all ingredients and set aside.
Marinade:
1 tbsp Oyster sauce
2 tsp Cornstarch
To Prep:
Place sliced beef into a bowl and add in marinade ingredients. Mix well.
Sauce:
Mix all ingredients and set aside.
To Cook:
Blanch egg noodles in boiling water and drain. Set aside.
In a pan, heat oil and stir fry beef until cooked. Toss red onion, bean sprouts and spring onions. Drizzle in sauce and stir fry to mix well until heated through. Serve.
Our friends at Wine Selectors suggest pairing this dish with a Grenache.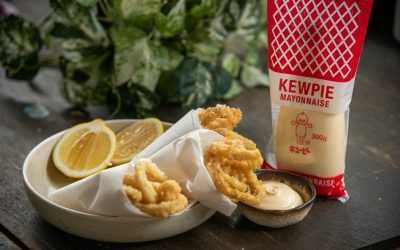 Ingredients: 1 tbsp sea salt flakes 1 tbsp cracked black pepper 8 cleaned squid tubes, thinly sliced Vegetable oil, for deep-frying 1 cup self-raising flour ½ cup mayonnaise Lemon wedges, to serve Method: Place the salt and pepper in a large bowl and mix to combine....