Stir Fried Pipi's with Chilli Jam
Terry Intarakhamhaeng
½ kg Goowa pipis
2 cups Thai basil leaves
½ cup spring onion cut into 1 inch pieces
1 long red chilli, sliced
Sauce:
2 Tbsp vegetable oil
1 tsp garlic, finely chopped
½ onion, sliced
 2 Tbsp chilli jam
1 Tbsp oyster sauce
1 tsp soy sauce
1 tsp fish sauce
1 tsp sugar
2 Tbsp salted soy beans
1 cup of chicken or vegetable stock or water
A pinch of white pepper
To make the sauce, in a wok on medium heat, heat the oil, then add garlic and onion. Gently fry. Add chilli jam, oyster sauce, soy sauce, fish sauce, sugar, salted soy beans, stock or water and white pepper.
Bring to a boil.
Add pipis and toss.
Cover and leave until the pips have opened – about 2 minutes.
Add Thai basil, spring onion and chilli and stir through.
Transfer to a serving dish.
Our friends at Wine Selectors suggest pairing this dish with a Riesling.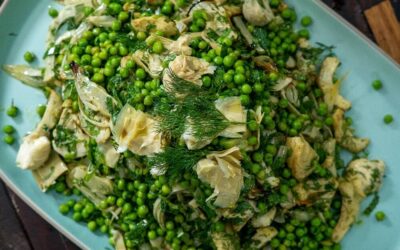 Ingredients: 500g fresh broad beans, in their pods 3–4 small fennel bulbs 250g frozen peas, thawed and rinsed 1 red onion, finely sliced 1 cup dill, finely chopped 1⁄2 bunch mint, finely chopped, plus extra whole leaves to garnish 1⁄2 bunch flat-leaf parsley, finely...