Summer Pudding
Ben O'Donoghue
Large bowl or glass pudding dish
50g caster sugar
50ml water

1 vanilla bean, split
500ml (2 cups) fruity light red wine (grenache)
600g mixed summer fruit frozen (strawberries, raspberries, blueberries, blackberries, etc.)
1 tablespoon chopped basil

1 loaf sliced white bread, crusts removed
Sprinkle the sugar into a heavy-based saucepan. Pour the water over and stir to make a paste. Cook to a light golden caramel.
Add the scraped vanilla bean and seeds, black pepper and wine, and bring to the boil. Simmer for 10 minutes, until reduced by half. Remove from the heat and gently stir in the fruit. Leave to stand until cold, then add the basil.
Line a glass bowl evenly with the bread slices, overlapping them so there are no gaps.
Fill the lined bowl with your cooled berry compote, then cover the top with overlapping slices of bread. Cover with plastic wrap and place a plate on top to weigh the pudding down; the plate should be the same diameter as the pudding, but slightly smaller than the bowl. Refrigerate overnight.
When ready to serve, turn the pudding out onto a large serving plate, or serve it straight from the bowl.
For chef quality results, we recommend using Anolon cookware!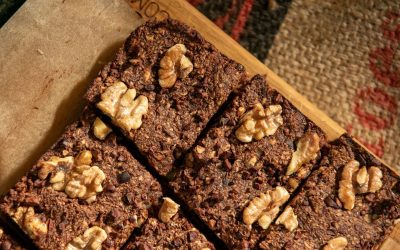 This recipe is brought to you with the help of our friends at JC's Quality Foods Ingredients: 1 ½ cups raw cashews 1 ½ desiccated coconut 3 medium ripe bananas, peeled and chopped 10 fresh dates, pitted 2 tsp vanilla extract ⅓ cup raw cacao powder ½ tsp bicarbonate of...