Tagine of Snapper
Ben O'Donoghue
Serves 4
1x plate size pink snapper or sea bream filleted but keeping the head and tail attached.
Paste
4-5 coriander roots washed / tops reserved for garnish
2 garlic cloves
Salt
1-2 pinches of saffron
400g chopped and peeled tomato
1 preserved lemon skin only finely diced
1 teaspoon cumin
1 glass white wine
Juice of one lemon
1 teaspoon fresh ginger fresh
1 cup chickpeas tinned
2 tablespoons of olive oil
½ cup crispy fried onions
Ask your fishmonger to gut, scale and fillet your fish but to leave the head and tail attached so as to just remove the spine and pin bones!
In a mortar and pestle pound the garlic, coriander root, cumin and ginger with a little salt to a fine paste. Then add the tomato, lime juice and preserved lime zest and white wine.
Pour this over your fish and allow it to marinate for ten minutes. In a tagine or heavy saucepan warm the olive oil. Add the fish and marinade as well as the chickpeas. Bring to a simmer and cook for about 10-15 minutes continually spooning the sauce over the fish. You may need to turn the fish half way through.
Correct the seasoning, and garnish with the remaining chopped coriander tops and the fried onions.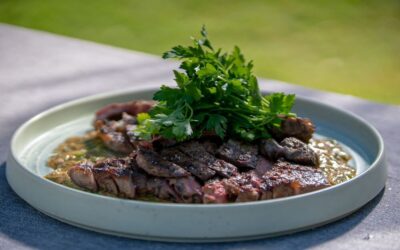 Ingredients: Serves: 2-4 2 x 250g T-bone or Rump steak Sea salt 2 Tbsp Olive oil 2 Tbsp Butter 1 brown onion, diced 2-3 cloves garlic, finely chopped 1 tsp dried chilli flakes 2 tsp dried mixed herbs 40 'twists' cracked black pepper 2 chicken stock cubes, crumbled 2-3...