Egg Mixture
8 Eggs
15ml Obento Cooking sake
50ml Obento Mirin Seasoning
25ml Obento Japanese Soy Sauce
30ml Kewpie Mayonnaise
In a mixing bowl, add in egg mixture and stir well.
Heat up a square flat pan, brush a layer of oil on the surface. Spread 60ml-80ml of the egg mixture and cook into a sheet.
When it is formed, roll the sheet to create a cylinder shape and keep at the edge of the pan.
Make another sheet and roll the egg to add the layer on.
Repeat the process until all mixture is finished.
Adjust the shape and cut into desired size to serve.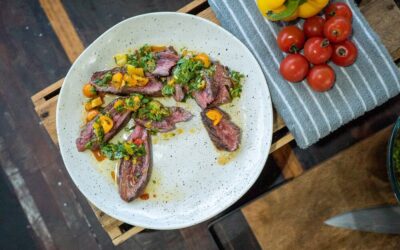 Ingredients: Serves: 4 800g Hanger Steak Sea Salt 1 small yellow pepper, seeds removed, roughly chopped 6 Yellow baby Tomatoes 1 small red chilli, seeds removed ½ tsp dried flaked chillies 2 Garlic cloves, peeled 20g fresh parsley, including any tender stalks 10g each...