Tangy Fish Laksa (Laksa Kedah)
Karen Chan
Recipe brought to you with the help of our friends at Asian Inspirations
300g Barramundi fillet
4 tbsp Valcom Laksa Paste
4 slices fresh ginger
2 cloves garlic
750 ml water
400ml TCC Premium Coconut Cream
1-2 tbsp Squid Brand Fish Sauce
1 tsp sugar
Garnish:
2 hard boiled eggs, halved
1 red onion, sliced
2 red chillies, sliced
Half cucumber, julienned
3-4 butter lettuce leaves, cut to 1cm strips
1 bunch fresh mint
1 bunch fresh Vietnamese mint
5-6 fresh Kaffir Lime leaves
2 slices fresh pineapple, cut into small bite-sized pieces
200g rice vermicelli
To Cook:
In a pot bring the water to boil and gently lower fish into the pot. Bring to a boil and then reduce the heat to gently simmer for 10 minutes.
While fish is poaching, in a mortar and pestle, crush ginger and garlic to a rough paste.
Heat a 2-Litre capacity pot. Add the laksa paste, and then ginger-garlic paste. Fry paste for 1 min until aromatic, then add 3 kaffir lime leaves, and 2 stalks of Vietnamese mint and fry for another minute.
By this time the fish should be cooked, remove and set aside. Add the stock into the pot with the paste. Bring this to a boil and let it simmer bring to a boil for 5 minutes.
Season with fish sauce and sugar.
With 2 forks, gently break up the fish to smaller chunks.
To Serve:
Prepare the vermicelli per cooking instructions on packaging. Drain and distribute between 2-3 bowls.
Ladle the laksa soup onto the noodles.
Garnish with fish, eggs, pineapple, lettuce, cucumber, chillies and top with finely sliced herbs.
Lastly, drizzle 2-3 tbsp coconut cream per bowl.
Our friends at Wine Selectors suggest pairing this dish with a Verdelho.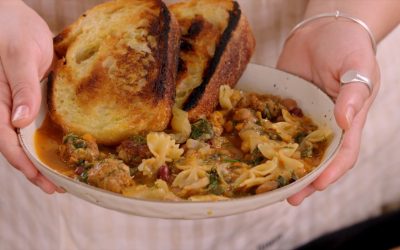 Ingredients: 4 Spicy Italian Sausages Packet of Farfalle Pasta 1 Leek 1 Carrot 1 Onion 2 Garlic 2 cups Shredded Cabbage 1 Chopped Silver Beet 1 400gm Tinned Beans 1 tsp Cumin powder 1 tsp Coriander  powder 1tsp Paprika powder 2 tbsp Tomato Paste Stock of your choice...